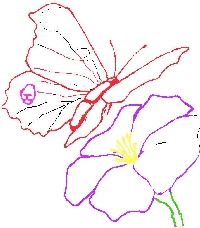 Each item that we create at Garden of Francis is unique - one of a kind - even if we've followed a template or pattern. We use sewing machines, hand-sewing and embroidery, scroll saws, hand tools and very few other tools to create the items you will receive from us.
Many of our items at Garden of Francis are created for you upon receipt of your order. The above butterfly icon signifies each of these items. While many times, we are able to ship your made-upon-order items about two weeks after your order placement, at times these orders can take up to 4-6 weeks. And during our busiest seasons (preparation for the school year), we can only guarantee 6-8 weeks, though we do strive for much sooner!
Our goal is the highest quality for the best price. We want to take the time and effort to ensure your product is going to meet your needs.
Want it faster?
*Additional fee applies for rush orders (1 week between order and shipping, regular priority mail). Rush orders do not slow down orders that request regular priority - instead we work over-time, hence the additional fee. Fees are $15 or 15% of the amount of the rush order products in your order, whichever is greater. Fees are invoiced separately.
Want a guaranteed delivery date?
*We can provide a guaranteed delivery date for a flat rate of $10 or 10% of your order (whichever is greater), fully refundable if we are unable to meet the timeframe (despite our best abilities and attempts, sometimes we are delayed). Fees are invoiced separately. This fee would be in addition to the rush order service if you are requesting both.
If an order contains a combination of ready-to-go and special-made items, we may at our discretion send two partial shipments at no additional cost to you.
Returns
We want you to be happy with all products. If something does not meet your expectations or is not as described, please contact us within 15 days of receipt of item for a prompt resolution.